NEW Project Alert!
The Death of Rasputin
THE DEATH OF RASPUTIN. Yes, we know that if you've followed our other projects, it seems like we're fixated on death. Or making death funny. No, we don't know what's wrong with us.
THE DEATH OF RASPUTIN is a hilarious comedy web miniseries that we'll be shooting just before Christmas. This is a joint project between Mildly Fearsome Films and the Azusa Pacific University Theater program. We've been lucky enough to cast the amazing Kyle Howard (MY BOYS, currently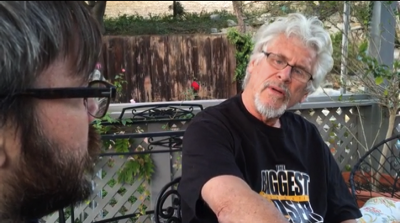 leading YOUR FAMILY OR MINE on TBS) and Golden Globe winner Barry Bostwick (ROCKY HORROR, SPIN CITY) as our leads, as well as Mark Christopher Lawrence (Big Mike on NBC's CHUCK) and a number of supremely talented up and coming actors from the APU theater program. We'll be shooting the project in December, editing in the spring and premiering online in May of 2015 on the Mildly Fearsome Films Youtube channel. APU has provided us with part of our budget, which is amazing, but we need an additional $5000 at a minimum to make this thing happen!
WHAT'S THE STORY? For the first time ever, Mildly Fearsome Films is adapting a totally true historical event - the assassination of Grigori Rasputin, advisor to the tsar and tsarina in early 1900s Russia. You may be familiar with a version of Rasputin if you've seen ANASTASIA. Or if you just love history like we do.
The short version is, Rasputin was a peasant who worked his way into the good graces of the emperor and his family through his "healing powers," gaining sway over the tsarina and eventually having quite a bit of say in the empire's governance. Rasputin was an... interesting character to say the least, and was hated throughout Russia for a variety of reasons (he's even now considered by many to be one of the most evil men in history). If you want to know more about Rasputin, you know, Google him or whatever.
Our story begins where Rasputin's ends, possibly the most hilariously botched and insane assassination attempt in history. In the course of one night, Rasputin was poisoned, shot twice, kicked in the head repeatedly, shot again, bludgeoned with a dumbbell, and depending on who you asked, drowned. Sounds hilarious, right? It will be, don't worry.
So what are we doing here? Over the course of 3 five to eight minute episodes, we've taken the story of Rasputin's assassination and adapted it into a modern, comedic retelling. That means while we've taken some creative license with the dates, location, dialogue etc... we're sticking as close as we can to the actual events. Which makes for a project we've been incredibly excited to make for years.
If you've enjoyed the humor in SUDDEN DEATH! or RESEARCH., we promise this will be right up your alley.
Want to know more? Click here.